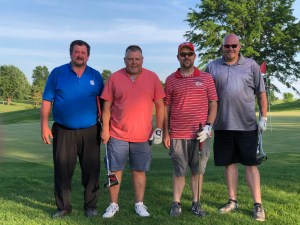 The Duncan Hills Tuesday Night Men's League meets Tuesday evenings to play 9 hole matches throughout the season with a 5:30 PM Shotgun.
Team Registration and Entry Fees
Registration opens January 21.  Please register as a team by completing the registration form and providing payment of the league dues for your team.  The league size will be limited to 18 teams (72 players total) and we encourage your team to sign up early and guarantee their spot to play this year.
Click Here For Team Application 2021 Tuesday Night Mens League Registration.
Fees
League Dues ($300 per Team | $75 per player) | Subs $25
Weekly Green Fees: $10 | Weekly Cart Fee $10
9 Hole Pre Play Fee: $10
Reciprocal Green fees from Fairview: $20 (includes optional 9 hole pre-pay fee)
Duncan Hills members:  no extra expenses, unless a cart rental is required.
Dates
Pre-Season Play:  April 6th – April 20th | Team Skins Game & Contest Holes
Team Stroke Play Tournament:  April 27th – June 15th | Flighting after round 6
Flighted Team Round Robin Match Play Tournament:  June 29th – August 10th
Flighted Team Double Elimination Fall Play-Offs | August 24th – October 5th
Post-Season Play:  September 7 – October 26th | Weekly Skins Games
Flighting
Flighting will occur after the 6th week in the opening Team Stroke Play Tournament.  We anticipate 6 – 8 teams per flight.  Teams will remain in their flights to finish the remaining 2 league tournaments.
Subs
Subs must register, pay their league dues and provide 3 – 9 hole scorecards for flighting to the pro shop in order to participate after June 1.